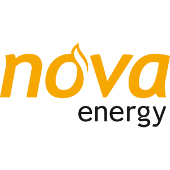 Compare Nova Energy Now
Whether its electricity, natural gas, LPG or solar, you can get it from Nova. With their own electricity generation capability along with natural gas and LPG from Todd Energy. Nova Energy, is part of the Todd Corporation, which has been one of New Zealand's leading energy explorers and producers for around 60 years. Nova also do their bit for the environment - so this electricity comes from a mix of energy types including renewables.

Nova aim to keep costs as lean as possible to provide you with great value energy. More than 100,000 Kiwi families and businesses have switched to Nova Energy and saved on their energy bill.
Nova can provide electricity and gas dual-fuel options for Auckland, Hamilton, Tauranga, Rotorua, Taupo, Hawkes Bay, Manawatu, Wanganui, Kapiti Coast & the Wellington region. Electricity can also come with bottled gas for Southern regions including Nelson, Christchurch, Central Otago & Dunedin